The prostate is one of the world's best-kept secrets (especially when it comes to heterosexual men). What can I say, we're always a little behind, especially when it comes to our own behinds.
But thankfully, the most intense orgasms possible have been patiently waiting tucked in just a few inches inside of you. So not all is lost for those of us who are a bit late to the party.
If you're not late, congrats! You'll still be able to benefit from this article nonetheless as this is the prostate massager review roundup you've all been looking for!
As a prostate owner, you can even achieve multiple orgasms!
A thing that most would believe was an exclusive feature of the cis female body. You could also have dry orgasms all throughout sex, skipping on the refractory period most of us have to deal with after a typical climax.
Prostate stimulation does not only feel amazing but it is also a great way to prevent any sort of prostate-related problems. So if you're looking for a prostate massager for chronic prostatitis, as well as erectile dysfunction (ED), painful ejaculations, etc. This is the place to be!
While there aren't many downsides to prostate stimulation, two recurring issues usually crop up:
1. Finding the damned thing & knowing what to do with it can take quite a bit of guesswork.
2. Having to twist into all sorts of weird positions to reach it is literally and figuratively a pain in the ass.
This is where prostate stimulation toys come to the rescue. These will make zeroing onto your P-Spot a breeze while still being comfortable to achieve, making these the best anal toys for men around!
It's also worth noting that, if you have no trouble finding your prostate, and you'd prefer a more hands-on experience any of these G-Spot toys should do as well.
Plus, if you're a trans woman, you'll probably find these models to be much more gender-affirming than the rugged toys found on this list!
How to Use a Prostate Massager
Before we get down to the best devices for the job, let's have a little primer on what it takes to get the job done!
First, you'll need a good lube. 
Silicone is the best and will last the longest. But if you're using a silicone-based toy, I'd avoid it since silicones don't mix well together. 
In that case, a thicker water-based lube will work wonders for anal stimulation. Thicker means it will take longer to absorb through your body and it'll also make toy textures more manageable.
I'm literally and figuratively in, now what?
First, you'll need to point the head of your prostate toy toward the front of your body.
The prostate is usually located close to a finger's length ( how convenient! ) in that direction. So you really don't need to go that deep to get to your goal.
Relaxation is key to getting the most out of your experience, so take deep relaxed breaths throughout. It also helps if you're already stimulated as it will make your prostate more sensitive and accessible. So put your free hand ( or hands ) to good use! 
If your prostate massager has a handle, a mix of constant pressure or rhythmical nudges is usually what the prostate craves. Just make sure you're still pressing toward the front of your body.
If your prostate massager has a perineum arm, you'll have to rely on breath and small contractions instead of hands-on manipulations. The arm usually acts as a lever so you won't have to worry about applying the pressure manually.
Plus, the perineum arm can actually stimulate the prostate from the outside by applying pressure through your perineum. So this should also help in making the experience that much more intense as well!
---
Also, make sure to see our guide on how to clean your sex toys to avoid any complications.
---
With that being said, here is our top 12 list of the best Prostate massagers & dildos for men, not necessarily from worst to best, because everyone's needs and budgets are different.
TL;DR
| | | | |
| --- | --- | --- | --- |
| | | Best prostate toys for hands-free play | |
| | | Best prostate all-day/trainer plugs | |
| | | Best prostate dildos for beginners | |
| | | Best vibrating suction cup prostate dildos | |
| | | Best prostate massager that is both durable & frictionless | |
| | | Great affordable remote-controlled prostate butt plug | |
| | | Best large app-controlled prostate vibrator  | |
| | | Best adjustable prostate dildos | |
| | | Most intense double-ended prostate toys | |
| | | Best small app-controlled prostate vibrator | |
| | | Best wireless prostate toys for men in relationships | |
| | | Best remote-controlled rotating prostate vibrator | |
| | | Best prostate massagers with come-hither motions | |
Cheap Prostate Toys
The Aneros Collection
Before I say anything else, know that Aneros is a company that specializes in prostate toys almost exclusively. So if you're looking for some of the best prostate stimulators in the business, these guys definitely know what they are doing.
Aneros makes some of the best prostate massagers for beginners along with some top-notch alternatives for experienced users as well.
Their smallest models are no bigger than a finger and their larger models will provide the most intense P-spot pressure out of their whole collection.
Aneros' prostate massagers are also completely hands-free, so all you have to do is insert them and let them do their work. Thanks to this, along with the girth found on the smaller models, these hands-free sex toys are absolutely essential for beginners.
They still have a bit of a learning curve though.
Relaxation, micro-contractions, and prior stimulation will go a long way toward getting you there. So if you don't succeed on the first shot, don't despair and keep on trying and you'll get there in no time.
The best options they offer are the Syn, Trident, and the Progasm line:
The Syn models are made of silicone and are the best beginner models since they're squishier and less intense than their plastic counterparts. They come in the smallest Eupho shape and the ever-popular Helix shape as well.
Also, the little handle is pretty useful if you want to add extra pressure to your prostate. This helps in making your Syn toys still relevant as you progress and get a bit more advanced in the practice.
The Trident models are made out of body-safe brushed plastic. A material that is much more rigid than what the Syn models offer. Thanks to this, they offer stronger hands-free pressure & can be used with silicone lube as well.
They come in all the classic shapes offered by Aneros. With the Eupho being the smallest, followed by the MGX, the Helix, and the biggest being the Maximus
The Progasm models are the biggest models in the collection. Made for experienced users, they come in the classic brushed hard plastic and "Ice" material.
"Ice" is a smooth & transparent plastic alternative that is reminiscent of glass toys, an option that makes insertion much easier along with a good lube. The Progasms are compatible with silicone lube and come in two different sizes.
Conclusion
While you could easily just get one of these and call it a day, eventually it would probably be a good idea to invest in a bigger model. This is especially true if you start with any model smaller than the Helix. Additionally, If you start your journey with the Syn collection, you might eventually want to graduate to the Tridents for the extra pressure.
Otherwise, these are some of the best prostate massagers you can find and are absolutely a great place to start. You could almost end your search there and still be satisfied for next the years to come!
Pros
Completely hands-free
Beginner friendly
Many sizes that go from very forgiving to very intense
Cons
Requires a bit of practice to get the hang of it
Oxballs Ergo Plugs
If you're torn between the versatility of a butt plug and the pinpoint accuracy of a prostate massager, the Ergo Plugs are where it's at!
This is all thanks to the slightly curved head which offers some subtle yet noticeable prostate stimulation. Making these the best anal toys for men looking to find a good middle ground between all the prostate toys available.
The thicker necks do make the Ergos a little less comfortable for long-term wear, even though the base is perfect for sitting on and walking around. With this in mind, they're still pretty decent for extended use if you don't mind the constant stretch. Plus, the extra thickness means that they can work as pretty efficient all-day trainers as well!
What's offered in terms of sizes should accommodate most folks, from the beginner to the size king! The gradual sizes they come in should also help you work your way up to bigger toys ( and partners )! 
Oxballs also offer these ergonomic plugs in a variety of firmnesses. 
Their Super Soft silicone is one of the squishiest silicone you'll ever find! So if comfort is a priority, you'll feel right at home.
Their firmer silicone found on the Swirl models is perfect if you like a bit more resistance and p-spot pressure.
Finally, the Peepshowtoys exclusive "Blueballs" color ( I know, it's hilarious ) is a nice middle ground between the two other firmnesses!
Conclusion
These are truly the best middle ground between prostate massagers and butt plugs.
So if you ever wished to be able to walk around town or clean the dishes with a happy prostate, or just have a prostate toy that can also be used as a long-term anal trainer, these little guys are pretty hard to beat. 

Pros
Great anal trainers
Curved head makes them great for prostate stimulation
Comfortable enough for extended use
A lot of color & firmness choices
Gorgeous sparkly & marbled designs
Easy to clean and maintain
Sanitizable
Tantus' Beginner Prostate Dildos
Tantus makes some of the best beginner prostate dildos around so it's only fair I'd dedicate an entire entry to them. All these dildos for men featured here are also strap-on compatible, so if you have a willing partner to attach these to, you definitely won't be disappointed.
The Compact is both tiny AND mighty, making it the ultimate prostate dildo for beginners! 
So if you have no interest in sizable dildos, this might be the only toy you'll need. Otherwise, it's perfect to start with if you're willing to move on to bigger toys later on.
If you're looking for something a little more challenging yet still somewhat forgiving, you should definitely check out the Sport dildo.
It's a slim dildo with a curved and bulbous end so it is definitely one of the best dildos for prostate massages as well as offering plenty of length for when you want to go deep!
Tantus also offers two other decent beginner-friendly prostate dildos ( the Curve & the Charmer ) that you should check out once you're used to their smaller options.
Both are more textured than the toys above, hence why it's good to have a bit of experience under your belt before starting out.
The Curve is a bit thicker and shorter, for pinpoint focus on the prostate. It is also made of their matte silicone instead of their usual slick finish, so double up on lube if the extra drag feels uncomfortable.
The Charmer on the other hand offers constant stimulation as you go in and out, instead of focusing the prostate pressure only at the tip!
Conclusion
If dildos are more your speed ( or if you have a partner willing to peg you ) these prostate toys are a must-have for beginners.
I don't know why Tantus of all brands is a leader in this niche, but I definitely won't complain as they make some of the best dildos for men in the business!
Pros
Great for beginners / Anal training
Almost frictionless finish
Comprehensize sizes
Easy to clean
Sanitizable
Cons
Could be underwhelming if you're looking for size and texture
Blush's Impressions
Once you've gotten used to the previous dildos and want to up the pleasure ante, these dildos are absolutely worth it for oh-so-many reasons!
They're some of the ONLY body-safe suction cup vibrating dildos you'll ever find. And the suction cups and vibrations are pretty darn good as well!
All of them come with varying levels of prostate curves, which is essential when looking for dildos for men!
They all fit in strap-ons, so if pegging is your thing, boy are you about to have a ball.
All the colors are pretty gender-neutral, so you don't have to settle for a pink dildo this time around!
Plus, with 5 very different models to pick from, there's really something for everyone in this collection. From small and slim to long and thick!
They're also rechargeable, 100% waterproof, and come with 10 different vibrating modes.
It's no surprise coming from Blush ( being the king of affordable & powerful rumbly vibes ) but the Impressions vibrate like their lives depend on it.
Even if it seems too good to be true considering the price, these guys vibrate like high-end toys at least twice their price. And with most vibrating suction cup dildos being buzzy disappointments, this is definitely a godsend.
So no matter which model you choose, you'll be going home with the best dildo for men you can find for the price!
Conclusion
These are the best vibrating suction cup dildos for the prostate PERIOD.
Don't let the small price fool you, these are must-haves for anyone craving some hands-free ( or strap-on ) rumbles.
Pros
Strong rumbly vibrations
Good suction cups
Strap-on compatible
100% waterproof
Nice variety of shapes and sizes
A lot offered for the cheap price
Easy to clean
Sanitizable
---
Mid-Range Prostate Toys
Pfun by Njoy
There's something about Njoy's toys that is very classy, while still being rugged and manly.
The Pfun is made out of heavy-duty surgical stainless steel & comes with a great handle, which is perfect for folks who like to be very hands-on with their prostate stimulation. This also means it may not be the best set and forget toy, but if you like total control over your experience, it's pretty hard to beat.
This thing is also much heavier than any other standard prostate massagers on this list ( except for the other Njoy toy below ). And while you might think that weight wouldn't play much of a role stimulation-wise, there's a "je ne sais quoi" about it that just makes the experience so much more intense. 
It would also be almost impossible to break this little guy, which is definitely a plus if you're looking to buy something that will last.
Like silicone, stainless steel can also be easily sanitized by boiling or throwing in the top rack of the dishwasher.
For a complete beginner, the Pfun can be a bit much in terms of size, but thanks to its frictionless material, it is really easy to insert with the help of a decent lube.
Speaking of good lube, since this is a stainless toy, you can use silicone lube without the risk of damaging your precious prostate massager. Silicone being the longest-lasting, slipperiest lube around definitely makes this one of the main selling points for the Pfun.
The stainless body also allows for temperature play!
Simply use warm or cold water to get the temperature just right. And please avoid microwaves and freezers unless you enjoy house fires and/or ripped skin!
The only downside is that since this prostate stimulator is pretty heavy, it is definitely not hands-free if you're standing up. So if you're planning on standing or walking around with this guy inserted, you probably would be better off going with one of the other hands-free options on this list.
Conclusion
This is an amazing prostate massager if you'd like a bit more control over your stimulation.
It is also so durable that it might very well outlive you.
Pros
Nearly indestructible
Compatible with silicone lube
Handle for easier manipulation
Essentially frictionless
Easy to clean & maintain
Sanitizable
Cons
To heavy to be hands-free
Plex with Flex by Hot Octopuss
The Plex with Flex is a beautiful beginner-friendly & remote-controlled butt plug with a generous prostate curve.
I really appreciate the design on this one as it's not the usual rugged look found on most prostate massagers. Real manly men aren't the only target with these toys, and I feel like this luxurious edge will satisfy most of us equally.
As the name suggests, the Plex also comes with flex, and I can confirm that they aren't lying! 
Its silicone body is flexible enough to conform to our anatomy without lacking the rigidity required to apply enough pressure on the right spots. So if you use it during sex, or when walking around town, you'll be sure that the Plex will bend with you instead of awkwardly poking on your insides. 
I'm also happy to tell you that the subtle base is also great for walking around and you won't need to assume the classic cowboy gait everywhere you go!
The real star of the show here is the "Treble & Bass" vibrations first introduced in the Jett.
"Bass" refers to the rumbly vibrations most sex toy fanatics rave about. It's the type of low-frequency vibrations that can be deeply felt throughout the body.
But the problem with rumbly vibes is that it can be quite difficult to make them powerful without compromising on the vibration quality. Something high-frequency vibrations ( or "Treble" in this case ) don't struggle with at all.
And while you usually have to choose between very powerful yet superficial buzzy vibes or low-frequency bone-rattling ones, this Bass & Treble system allows you to enjoy both at the same time! Which can be a pretty novel & nuanced sensation. 
I still think the toy could be a touch more powerful, especially since the rumbles can become a little buzzy on the highest levels ( a common problem with rumbly toys, to be fair ) but it still should be plenty for most of us.
The Plex is also rechargeable & fully waterproof.
A definite upgrade over the battery-operated Jett which introduced "Bass & Treble" vibrations in the first place
Plus, being fully waterproof, clean-up is a total breeze. And I won't scoff at the option of getting freaky in the shower or in the pouring rain ( you hopeless romantic )!
The remote control, while nothing special, also really expands your play options.
You still have buttons on the base of the toy if you prefer to play solo and keep things simple. But the controller is still useful when by yourself since the buttons on the toy will be well out of view.
So if you're not a proficient braille reader and want to avoid removing the toy every time you want to change settings, loners shouldn't ignore this feature.
Of course, it's also perfect for partnered play or going outside and getting freaky!
I wouldn't have hated an app for the Plex as they're now pretty common for such toys, but the controller is pretty dope and subtle anyway. Plus, I have a feeling that the lack of an app actually helped in keeping the price down so I'll let that one slide!
Conclusion
This little bad boy is awesome to implement during solo sessions, sex, and public play while remaining accessible with its affordability.
The "Treble & Bass" vibrations also offer something pretty unique, so if you're tired of buzzy OR rumbly vibes, why not try something that does both?
Pros
Completely hands-free
Beginner-friendly
Can be controlled wirelessly
Waterproof
Easy-to-clean
Unique vibrations
Flexes with you
Cons
Could be a touch more powerful
No app controls
Edge 2 by Lovense
Lovense is mostly known for making toys for sex cam performers, being the only company making devices that natively react to the spectator's tips. 
Most of their toys are also pretty good for long-distance relationships or public play since they can be wirelessly controlled via any smartphone.
The Edge is no different and while it seems visually and functionally identical to the Bruno or Hugo mentioned further down, it does have a few interesting unique features. It offers pretty strong vibrations, with motors on both the perineum and prostate, as well as being rechargeable.
Just keep in mind that if you're a beginner, you would be better off with the more accessible Hugo or Vector since this prostate massager is a bit more on the thicker side.
So why would I add a prostate massager that is essentially a slightly larger clone of another product in this list? Well, it's because tricky old Jimmy kept the best for last, of course!
The Edge features a completely adjustable prostate arm. So If you've had issues in the past with the fit of your men's prostate toys, this is as good as it gets.
The only real issue I have with this prostate massager, and this applies to most Bluetooth toys, is that connection can be a bit hit-and-miss at times. If the signal has to go through a person, or even just a leg, it might not reach its destination. But otherwise, this toy is an absolute home run!
UPDATE: The Edge 2 has now replaced the Edge 1!  It now has a more durable magnetic charging port and the fit is a bit better. It will better stay in place while being a bit more intense on the prostate as well! Otherwise, it's very similar to the OG.
Conclusion
Whether you need a customized fit, a cheaper option to the remote-controlled Hugo, or even if you're just looking for a good LDR toy, the edge will be absolutely fit for the job.
Pros
Completely hands-free
Can be controlled wirelessly
Sanitizable
Deep Rumbly Vibrations
Adjustable prostate arm
Compatible with most Sex Cam sites
Cons
A little big for beginners
Bluetooth can be a little tricky at times
NYTC Pack & Play Dildos
Alright, I know these dildos aren't prostate massagers per se but, when it comes to prostate stimulation, they could definitely rival with a lot of the toys mentioned on this list.
So if you are less about direct pressure or the set-and-forget kind of mentality some of the previous toys offer — or even if you just want to add more variety to your prostate tool kit — this entry is definitely for you.
Proud prostates owners across the world have fallen in love with New York Toy Collective's Pack & Play toys.
This is all thanks to their pronounced (yet soft) heads, known to reduce even the most demanding of dudes into puddles of their former selves. Plus, with their large base, these dildos are also perfect for pegging!
While the Pack & Play Dildo was originally meant to be worn by Trans Men, cisgender guys should definitely not let that deter them as it is a true contender for the best dildo for men.
That's simply because the posable shafts originally meant to be easily tucked away in pants ( that's basically what packing means ) can also be used to get the perfect angle for penetration! And we all know how picky with angles a prostate can get. Hell, if you're looking for the best dildo for prostate stimulation, one of these will do perfectly!
Another great selling point is that NYTC offers a multitude of gorgeous colors to pick from, so it's perfect if you're not that into dicks in general as funky colors go a long way to curb realism.
But those who prefer their dildos as realistic as possible should rest easy since most of their toys come in many shades of natural skin tones as well! So if you're looking for the best dildo for men who are into men, these are pretty hard to beat!
Conclusion
Though they aren't branded as such, the Pack & Play dildos are some of the best dildos for prostate stim and you should definitely consider them, especially if you're into penetration!
Plus, if you buy from them, you get to support an awesome independent, sex-positive, and queer-friendly company. Something that is well worth considering when you're voting with your money!
Pros
Dual-Density ( Squishy yet stiff )
Gorgeous marbled colors as well as natural ones
posable skeletons
Pronounced head feels great on g-spots & prostates alike
Easy to clean
Sanitizable
---
High-End Prostate Toys
Pure Wand & Fun Wand by Njoy
Yep, Njoy again.  Can't you tell that I love this company already?
I know I mentioned this toy in the G-Spot guide and I know I referred you to that article earlier as well. But they simply are just that good.
It's good to know that these toys aren't for the uninitiated and they're definitely not "set and forget" like many of the hands-free prostate massagers I've already covered.

These give you a much more hands-on experience, so it is crucial that you know what you are doing.
But once you get accustomed to them, these two offer some of the most intense leverage that you will ever find in any other prostate massager.
Like the Pfun, they are also made of ultra-hygienic, nearly indestructible surgical stainless steel. This means they can be sanitized fully and they both work pretty well for temperature play as well.
The pure wand is also long enough to invite another partner at the other end may it be a man or a woman since the shape is amazing for G-Spot stimulation as well.
There are two options to choose from: The Pure Wand, and the Fun Wand.
The Pure Wand has two differently sized ends: one small beginner-friendly tip and a much more sizable end for when you want to crank things up to 11. It also sports the most intense curve of the two.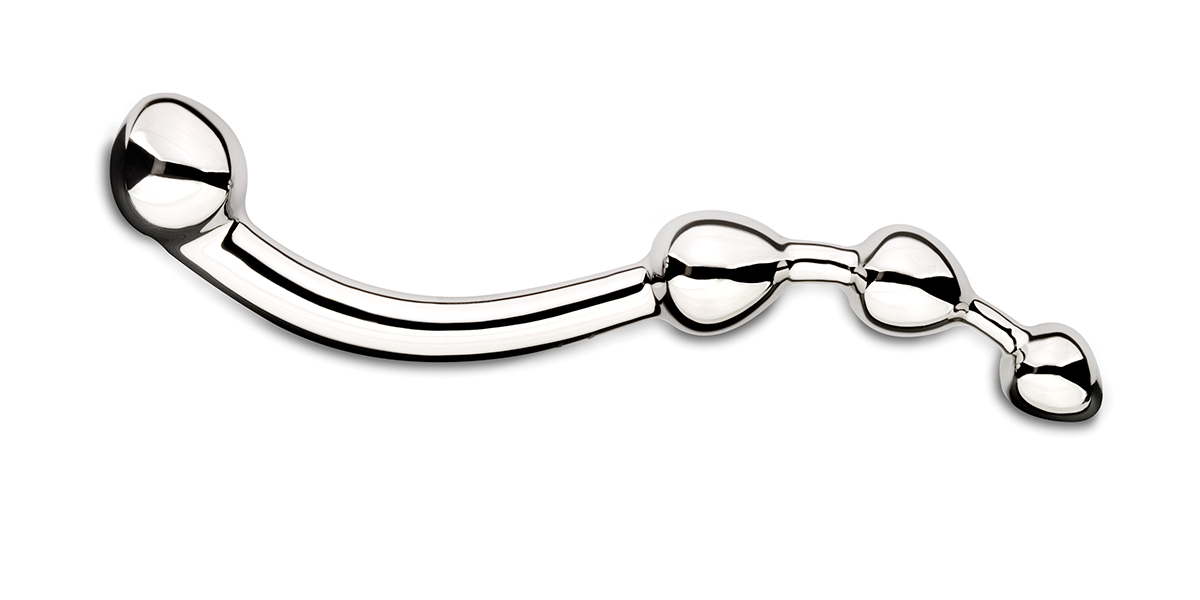 The Fun Wand is perfect if you don't care much about the bigger end of the Pure Wand. Instead of a large tip, this one has anal beads that double pretty well as a handle when needed. So if you or your significant other are into anal beads, this could be a pretty awesome alternative.
And these guys are HEAVY! So if your home ever gets invaded in the middle of some nighttime fun, you could definitely take another man's life with one of these.
Conclusion
Needless to say that this is a must-have for anyone who needs all the pressure and versatility they can get.
But it might be a bit of an overkill for those of us who are just looking for a prostate massager for chronic prostatitis.
Pros
Most intense shape out of any prostate toy
Insane amounts of leverage thanks to the length and curve
Easy to clean
Sanitizable
Nearly indestructible
Two different ends
Cons
Not for beginners
Heavy
Vector+ by We-Vibe
We-Vibe has really been spoiling women with recent releases like the Moxie & Chorus, along with already-established classics like the Tango & Rave. I always loved the brand but only from a distance as they never really made anything substantial for us men.
Then they released the We-Vibe Vector and boy they did not disappoint!
The Vector is small yet powerful, so it's perfect for beginners and pros alike.
I'd even argue that it's the best prostate massager for beginners who enjoy a bit of vibration.
Plus, small powerful vibrating prostate toys for men are really a rarity in the prostate massager world. So I'm definitely not complaining about this new release!
Like most self-respecting vibrating prostate toys, We-Vibe's Vector sports 2 vibes. One is internal while the other rests conveniently on the perineum. You can even use the vibrators individually, letting you warm yourself up with some perineum action before getting serious with the prostate vibrations!
The Vector also borrowed an important feature from the Chorus: Its adjustable neck.
Or did it borrow it from Lush's Edge?
Who cares, we need more adjustable prostate massagers!
It's a feature that makes the Vector much more likely to fit your anatomy. Plus, if you're feeling up to a challenge, you can also adjust the curve to apply even more pressure to your prostate. It's like multiple toys in one, baby! Broke boys unite!
Of course, this wouldn't be a We-Vibe toy without some nice features for couples.
So, if you're into public play and/or are in a long-distance relationship, get ready to like this toy even more!
The included remote is a welcome addition as it is a bit more convenient in the bedroom. Heck, it even makes solo play better.
But the phone app offers way more options and ways to customize your experience. It also allows you to use the Vector from any distance and it's more convenient to use in public if you're into that as well!
Differences between the We-Vibe Vector & Vector+
In this recent update, nothing much was actually changed. To only real difference is that they improved connectivity, which was always a bit of an issue with We-Vibe's toys, especially when compared to Lovense's.
Now I don't believe it's worth upgrading from your old Vector unless you do a lot of public play as connectivity is much less of an issue when playing indoors in a controlled environment.
So unless getting off while out and about is really important for you, I'd probably wait for the next iteration if you're looking for a substantial update!
Conclusion
The We-Vibe Vector is packed with features and is suitable for both beginners and pros.
Plus, if you're in a relationship, you're partner is bound to get a kick out of it as well!
Pros
Powerful
Can be controlled via an App or Remote
Can be worn on the go
Adjustable body
Easy to clean
Sanitizable
Cons
Bluetooth can be finicky ( Like all other bluetooth devices )
Hugo by Lelo
While Lelo has released other men's prostate toys before the Hugo, they didn't leave that much of an impression in terms of shape, strengths, and innovation.
It features strong rumbly vibrations and two heads including one that vibrates on the prostate and the other on the perineum. Directly on the prostate massager, there's a simple 1 button interface. You simply press it to start the toy and press it again to cycle through its 6 modes.
The silicone-covered body is not too big either. So while this might not be the perfect first-time prostate massager, it is still pretty accessible to most.
It can be used in the shower or bath without any problems. And to top it all off, they're both USB rechargeable and covered by Lelo's great warranty.
The real selling point of the Hugo is that it comes with Lelo's SenseMotion wireless controller. And what a difference it makes!
First of all, the remote adds much more control over the vibrations themselves. You can customize the 6 function's strength to small incremental amounts. So if your prostate likes a more gradual climb, the Hugo can be well worth the investment.
Let's talk about that said SenseMotion.
This neat little feature allows you to gradually raise the vibrations by tilting the toy up to 90 degrees.
The second mode makes the vibrations more intense the harder you shake the controller. And this would be just a bad gimmick if the controller didn't vibrate.
That's right, the vibrations on the controller imitate any vibrations found in the prostate massager itself.
If hearing this doesn't spark your imagination, let me help you get the ball rolling ( get it? ).
If by yourself, you could put the controller on the shake mode and masturbate with it, holding the vibrating controller under your penis. As you get more into it, the prostate massager will vibrate more and more intensely, making it a very organic experience.
If with someone else, he or she could masturbate with the vibrating controller and you would both be riding the same wave! Or they could put in on tilt mode and act like they were the Caesar of your prostate!
Conclusion
While Lelo's Bruno works well by itself, the vibrating remote of the Hugo makes it a much more versatile massager. It is a better option for someone who prefers a more gradual climb, or for anyone in a relationship.
Pros
Completely hands-free
Can be controlled wirelessly
Sanitizable
Vibrating remote mirrors the vibrations in the toy
Great couples toy
Revo Stealth by Nexus
If you took most of the best features of every prostate massager on this list and crammed them all into an elegant & accessible toy, you'd get the Revo Stealth 2.0.
This prostate massager is covered in silicone, has 6 powerful vibration modes that vibrate on both the prostate and perineum. The Revo Stealth 2.0 is also USB rechargeable and comes with a 1-year warranty.
The insertable end rotates in whichever direction you want it to and has two different speeds of rotation. And if you know a thing or two about the prostate, you know that this is very good news.
This prostate toy can also be remote-controlled from up to 30 feet away. It can also be controlled with buttons found directly on the prostate massager itself. This way you don't have to manage two set of batteries if you prefer to ride solo. 
Conclusion
Whether it's for solo or couple play, the Revo Stealth 2.0 is an all-around winner. 
So if you can't decide between any of these other toys, this might be the perfect compromise.
Pros
Rotates & Vibrates powerfully
Can be controlled wirelessly
Easy to clean
Sanitizable
Great couples toy
Loki Wave by Lelo
The Loki Wave is the first toy for men to include Lelo's WaveMotion technology.
It's a unique function originally designed for Lelo's best-selling G-Spot & Dual toys.
But the G-Spot is not the only nerve cluster in town that enjoys that type of stimulation. And luckily, Lelo listened and gave us this great prostate stimulator.
Now, you will need some decent anal experience to enjoy the Loki Wave since it's about twice the size of the Hugo. But if you can fit about two fingers in there comfortably, this shouldn't be too much of a problem. And rest assured, the Loki Wave is also relatively easy to insert since it has a nicely tapered tip.
The Loki Wave is made of medical-grade silicone, rechargeable, fully waterproof, and vibrates strongly on the perineum and prostate with 10 different modes to pick from. And even though it has a handle, it is also completely hands-free if you want it to be.
The Loki Wave also works impressively well with women!
Just make sure to sanitize it properly with a 10% bleach water solution followed by a good rinse beforehand if you want to avoid any complications!
Conclusion
I only wish that the vibrations were just as strong as the Edge, and the motions just as fast as the Revo Slim. But I'm nitpicking here.
With all things considered, the WaveMotion technology along with the size and the dual vibrations of the Loki Wave is more than enough and certainly won't leave you underwhelmed!
Pros
Completely hands-free ( with the option of using the handle )
Moves for you
Sanitizable
Unisex
Cons
A bit pricey
handle can get in the way in some positions