It goes without saying: no one is really enjoying this current stressful saga of… the Quarantine Times.
It feels like the world stopped turning for a moment, and we're all trying to keep ourselves from flinging out into the empty vacuum of routine-less malaise, sadness and time.
We're stocking up on toilet paper, conscientiously hoarding boxes of Kraft Dinner, wrapping our arms around those faithful comforts we rely on during difficult situations.
Sadly, if you weren't already cohabitating with your partner(s) a favorite TV series might be the only hottie you're allowed to fall asleep next to. Usually falling asleep with Donald Glover or Alison Brie wouldn't be seen as a punishment but these are unusual touch-starved times. (Also, can you guess which show I myself have been binging?)
How do we connect with others sexually, when we can often struggling to connect with ourselves during the difficult moments?
If you're struggling to connect with your partner during these physically abstinent times, I've devised a few exciting ways to bridge that gap… with science!
I've broken down the larger issue of "hngh" (which is the sound of sexual frustration) into three categories.
First I'll introduce a couple of novel ways of injecting some excitement into our all-too-sterile mole people lives.
Maybe you've been wanting to kick things up a notch with some fun sexual zingers… well now is the time to feel alive. Next, we'll focus on how to keep the sexual connection alive while in isolation. Finally, we'll round things out with some exercises on how to improve your own self-knowledge sex skills.
Who knows? Maybe you'll start a routine that you were just simply too shy to try during our regular pre-quarantine lives!
Teledildonics & beating the isolation by beating off together 
Touch-a touch-a touch me, I want to be diiirty!
I'm not the most touchy person. To be honest, I burst into a cold sweat just thinking of someone attractive holding my hand, and my pre-quarantine routine was essentially 15% more social than what we are governmentally mandated to maintain now.
Having said that, I'm definitively feeling that immense touch starvation. I'm glued to hugging pillows, roommates, and stuffed animals like a sad baby koala after a forest fire. (Another 2020 bingo moment right there.) Even my shivering little chihuahua is pulling back from the sheer magnitude of hugs I'm generating right now.
SOMEONE LOVE ME– uh, ah… ahem.
Are you still jerking off with your hands like a simpleton? For shame! It's the 21st century!
As my fellow colleague at Tabooless Anna Franco can attest, there have been some amazing advancements in sex toys that make them ideal for situations where we can't physically connect. 
From the basic remote controlled vibrating panties to the elaborate LDR sex machines, there is a remote-controlled sex toy fit for you and your partner(s). 
We-Vibe
My genitals are devoted to We-Vibe.
I hate to say it that way, but it's as though We-Vibe engineered their products to my exact desires. The colors, the textures, and ease of use makes it my first brand to recommend.
A favorite of mine is the Sync, which clips onto the vagina and has two motors ( One on the clitoris, the other on the G-Spot ). There's also the amazingly rumbly Rave, which is angled for G or P-spot stimulation. They've also recently launched their own "Magic Wand", and it is glorious!
Of course, any of these can be controlled from any distance through their app!
Lovense
A close second to the We-Vibe in popularity is the Lush by Lovense.
It's quite popular (especially with camgirls) and has been reported to have a lovely amount of rumble instead of a buzz. We're also big fans of the Hush ( a butt plug equivalent to the Lush ) & Edge ( Essentially a We-Vibe for the perineum and prostate ).
Like the We-Vibe toys mentioned above, they're all app-enabled as well.
Kiiroo & Fleshlight Launch
This is the couples' sex toy of the future.
The Kiiroo dildos/vibrators virtually connect to the Launch ( a motorized Fleshlight sleeve ). Whatever touch or sensation is applied to the dildo is matched on the Fleshlight end. It's magical.
Similarly, there's the Shockspot and VStroker combination. Being much more expensive, it's less popular, and a tad more industrial looking. Despite being more intimidating, the premise is similar to the above combo but the penis controls the movement of the dildo this time around.
Cowgirl & the Motorbunny
Are you feeling really indulgent, and tired of riding the washing machine? Is your magic wand crying out in exhaustion? Check out either the Cowgirl or Motorbunny.
They are sex machines similar to the popular Sybian but modernized & controllable with an app.
These are truly perfect LDR toys for power queens & kings alike!
Jazz Hands for Sexual Novelty!
Our routines are largely bunker-based at the moment, but that doesn't mean we can't try to inject a little sizzle into our nighttime (or daytime, heavens knows most of us have the free time).
You know that mental "Sexual Bucketlist" you probably have hidden away? Get it out. Seriously, consciously dust that list off and think back to all those moments of devious sexting between you and your date mates. 
What were the tantalizing plans you made to each other? Were you going to finally try pegging? Have sex in a (safe) public space? Visit an adult theatre that shows porn?
You can riff off these fun fantasies, and do a quarantine version instead.
Build a kinky isolation routine
When we're all bubbled up into our individual pods, it can be easy to miss out on the moments of spontaneity.
It's nice to have a partner grab your bum suddenly as your chopping carrots, or have them wink at you seductively when you spot that cutie in the high heels and the glitter beard walking by downtown.
As boring as it sounds, try to program those moments into your routine.
It might feel a little forced, but try sending each other a flirty pic every morning before starting your day. Maybe have a routine where you both meet up for lunchtime mutual masturbation while you're on your lunch break. It might mean they send you a dirty picture every time they pour themselves a new cup of tea.
Whatever it is, try building little flirty routines for each other!
Write that fantasy bucket list 
Come up with a little list of things you want to do when humanity resumes and our time as hermit people ends.
Imagine your first day back in each other's embrace: do you want it to be solo, or include your other mutual partners (if you have any)? Do you want to take a shower together, shave each other and primp together before getting messy all over again?
Don't forget to request things earnestly: if you miss how your partner rubs your legs before going down on you, mention that! Remind your partner what you enjoy about their specific routine or techniques, and be vocal about it!
If you're feeling adventurous, you can roll play and pretend to be strangers! Meet at an exclusive hotel with a sauna in room and mirrors on the walls, and just enjoy your own personal bacchanalia.
Come up with your fantasy checklist, and use that to fuel your slow-simmering sexual drive now. It's like making a vision board…but for sex!
Watch some live performances 
Were you talking about going to strip clubs, but never got around to actually doing it?
Yeah, yeah. I know. "Urgh it's too bad things are closed," you're saying, "I really wanted to finally go to a strip club! Or watch some burlesque and be fancy!" 
I feel like every sexual person has been saying this mantra since the beginning of time.
But now's your chance! There are tons of amazing, attractive and enchanting beings modeling on cam sites right now. Go check them out!
In most countries, sex workers are not eligible for governmental financial assistance. Not only will you be enjoying an incredible show, but you'll be supporting local or small content creators.
The scene can play out like this: meet up with your partner(s) online to chat over coffee (or wine). Go on Twitter together, and search "camgirls" or "e-girl" or "cam models". Alternatively, Chaturbate is probably the most active & diverse directory at the moment. Now pick your favorites, and find out the time their next performance fits your schedule.
Make a date out of it! Get dressed up, be as sexy or as comfortable as you please. Dim the lights, light some candles and get cozy. Jump on a voice or video chat with your partner so you can both chat while watching.
I'm sure you'll find the experience titillating. Just don't forget to tip!
Make your own live performance
Do you have a playlist titled "Burlesque Songs", a full routine and costume in your closet, but have been too afraid to try it? Now's your chance. Just do it!
Of course, my suggestion is burlesque out of personal preference, but if you want to do a private "Coyote Ugly" style strip show… more power to you!
Plan a night with your closest lover(s) and/or friend(s). Does anyone else want to do a performance of some kind? Will it be themed? Give yourself a few days to get your act together (pun intended). Remember to appreciate the experience, and live for this moment. Have a virtual get-together to share a pre-event drink. Let the magic happen!
Just remember to choose your entourage as carefully as possible. While we can't contract C-19 from each other virtually, people can still be major douchebags and you don't want any issues with acquaintances taking screenshots!
Watch some porn together
How many free 3 minute clips have you watched for free while perusing Reddit one-handedly? How many gifs have you consumed without considering how hard those models work?
Now is the time to show your support, all while getting yourself and your partner off. (See, the world isn't so bad.)
If you can afford it, purchase a subscription to a site; I personally love queer-as-fuck CrashPad, but that's all up to your preferences. (Although I will definitively judge you if you don't appreciate artsy, sexy gays. Who hurt you?!)
If you're looking for less titillation and more silliness, a classic cringe porn is the Alice in Wonderland parody filmed in the 70s. Don't ask me for more information… just… go watch it. Now.
Read each other erotica
This is a fun passive activity, but it can help open you up to learning how to be more communicative about your fantasies. Both of you can decide the flavor of erotica, depending on your mood. Or make it a game!
Find the most outrageous, delightful, or mundane erotica you can find and read it out to each other. (If your relationship is queer… please call these dates Raunchy Reading Rainbow.)
Frankly… extra bonus points will be allotted if you write your own!
If you're looking for the most ridiculous erotica to read, I will immediately escort you to Dr. Chuck Tingle's work. It is unrivaled in its oddity and hilarity.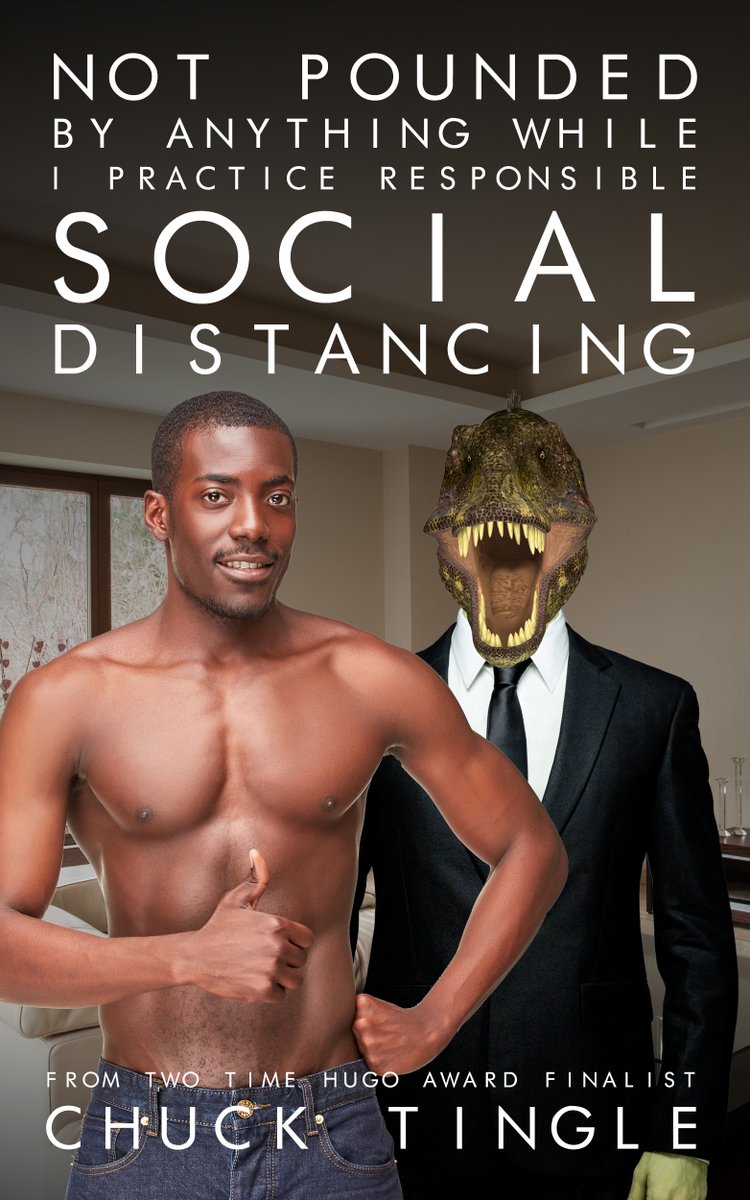 Level up!
We're all surviving this enormously odd and offputting time, so it's fair that not everyone will want to improve certain skills while we're aiming on maintaining a certain level of normalcy. Absolutely take your time. Take care of yourself and your loved ones first, without shame or apologies.
But if you are interested in using this time to improve or dive deep into your sexuality, here are some nerdy suggestions!
Do some kink quizzes
"What? School is postponed, and you want me to do a quiz?" Yes! You might never have thought of yourself as a kinky person, but these tests might show you otherwise.
There are quizzes online that compare your kinks to a partner's kinks (sadly only one partner at a time) like WeShouldTryIt.com or their app Spicer. They'll rate the interest you have in various kinks or activities to what your partner desires.
There are also quizzes that rate your personal interest in kinks or dynamics. For example, you might know you're more of a submissive but you could also be a rope bunny and not even know it! The golden standard for that is BDSMtest.org, which is super popular on sites like FetLife.
Finally, there' are exhaustive kink assessment quizzes. There's an inventory of every single possible kink and your interest in it. Print it out or edit the PDF online, and share it with your partners! Who knows what will come out of it? My personal favorite comes from Autostraddle, but another good one is from ABC's of Kink.

Practice sexting and dirty talk

I can't be the only person who needs some kind of background noise when hooking up. Otherwise, I get really focused on the unfun sounds (weird breathing, people talking outside, etc)… So dirty talk is key for my enjoyment!
Reading erotica to each other should help you all practice dirty talking (or at least make it less awkward) but if you're really keen… try your hand at Slutbot, the sexting chatbot!
Practice Shibari on yourself
Disclaimer: be safe. We don't want to have anyone risk their health and safety for a little rush of adrenaline, so please don't do anything you couldn't cut yourself out of with safety scissors.
If you've found yourself gushing over elaborate rope harnesses or self-bondage, but didn't have the skills to do that in the middle of sex? Well, now you've got time to practice!
Go check out the shibari tutorials on sites like TheDuchy, have your camera ready and try it out!

Watch some sex documentaries
How knowledgeable are you really in niche kinks? Do you know the difference between oviposition from vore? What do you know about… the vajankle?
Well you can learn about all that and more by watching some excellent online shows on Youtube like Slutever from Vice or Sex Stuff with Zoe Ligon. If you have a subscription to Netflix, head over to their short four-part series titled "Sex, Explained".

Clean and purge!
When was the last time you really deep-cleaned and washed your toys? I don't mean slapping some hand soap on it for a bubbly cleansing handjob, but I mean… really cleaned your toys?
Get to it! Wash them, hang them to dry and organize them in plastic or satin bags. Make Marie Kondo proud!
How many of your own toys are truly body-safe? While the industry is changing, the vast majority of sex toys on the market today are not safe to use sexually. If you have some that are old, slimy feeling rubbery monstrosities… toss them out! 
If you need a little inspiration, we have an absolute cornucopia of body-safe reviews and suggestions here at Tabooless! So take a peak!
Stay Safe, You Beautiful Kinksters
Times aren't easy right now. Let's be frank: we're all a little scared, anxious, and horny. Things are going to stay shitty for a while but if we take care of ourselves and our loved ones, we will get through this.
Take the time to make yourself feel better.
If that means putting on your rubber catsuit, ballet boots and riding a Motorbunny while your entire polycule watches… that's just being responsible.
Be careful, weirdos. Stay safe, and for fuck's sake… stay inside!

Featured art by Marie-Maxime Giguère