Why sex advice from a teenage virgin is just what the doctor ordered
Do you remember having sex for the first time? How old were you? What was it like? Have you yet to experience it?
Sex can be pretty confusing, and it's not always easy to find the solutions. We may ask for guidance from the wrong places, adding to the confusion.
It's been about a year since 40 million of us binge-watched the cumming-of-age (pun intended) Netflix series, giving rise to the promise of a second season. The new season is set to release January 17th and I cannot wait to watch it! If you haven't yet had the pleasure and were wondering if you should jump into this series, let me tell you what makes this show great.
Mum's the word
The story revolves around Otis, a bright yet awkward and nerdy teen boy who is the son of a sex and relationships therapist, played by the extremely MILF-y Gillian Anderson. Yes, that's right, Scully is back and hotter than ever!
Jean, Otis's mum, is an intelligent, sexy therapist who is always calling everyone out on their sex-negativity and unleashing pearls of wisdom, often without being asked. She crosses boundaries, despite knowing full-well their importance, and generally drives Otis mad. As much as she can be a bit much for Otis, they do have a great connection underneath it all.
Boy bonds
Feminism brings so much attention to women's issues that sometimes we forget that there are strong feminist opinions about values and experiences to nurture in raising good men. We want boys to know that they can be in touch with their emotions, close with their friends and still be respected by their peers and attractive to their crushes.
Otis has a best friend, Eric. He is endearingly awkward and bubbling over with so much enthusiasm, you can't help but love him. Otis and Eric's relationship is exactly the kind of boy bonding we want to encourage.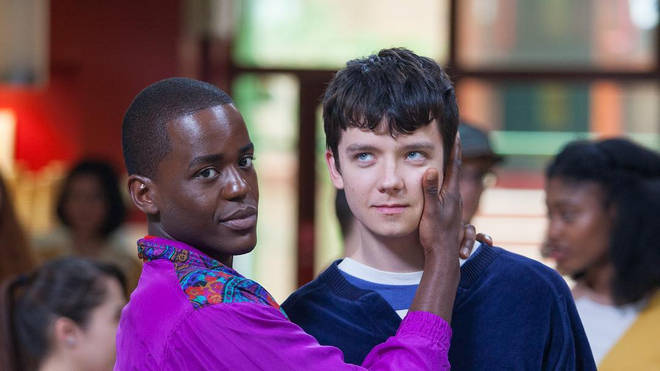 Otis and Eric are long-time besties who have a close and tender relationship. Eric is also more than a little gay. They demonstrate what it looks like when boys are good to each other, and not just in a bro-ey way. They genuinely care for one another and share the intimate details of their lives.
When I was in high school in the early 00s, gay-straight friendships were heavily stigmatized. Maybe it still is in some places, but it's good to see a gay-straight male friendship modeled so well in a series.
There's no secret, unrequited crush between them, or weird rivalry. At points, there is most definitely conflict, misunderstandings and hurt feelings. They are teenagers, after all. They definitely make mistakes.
He is a breath of fresh air that adds some of the funniest, most elating and profoundly hurtful parts of the series. He emerges again and again, bravely and proudly being his authentic self amongst his nervous and largely straight peers. Be warned: his timeline takes a dark turn in episode 5. Watch with a buddy.
Escapism
It's no secret that the real world is a mess right now. Who doesn't want a little escapism? I know I do. I would love to have an hour here and there where I can forget about the seemingly hundreds of scary realities I have little to no control over, not to mention all the ones I can control but am not ready to tackle just yet.
Sex Education gives us just that. An escape. Set in…some part of the UK at a… confusingly modern yet nostalgic time…in a startlingly American high school.
It's a show that a huge swath of people can both identify with and fantasize about at a time in life when the stakes feel incredibly high but responsibilities are practically non-existent. In all its vagueness, it appeals to anyone who feels a bit out of their depth from time to time and it comforts us when we're feeling our most vulnerable.
The fact that the place and time is ambiguous was intentional. Costumes and styles are from various decades and except for the fact that everyone has cell phones, this could be happening anywhere, at any time. The creators really wanted the show to feel like a comic book. The characters exist within this universe that is familiar, yet different. Perfect for suspending disbelief just enough to escape.
A treat for the trousers
The first episode opens on a sex scene. Not just any sex scene, but a sex scene that has all the elements of a really good porno. Hot teens (played by young adults so it's less creepy), perky tits bouncing away, sexy mood lighting, and great music. But all is not as it seems. Lo and behold, these teens have sex problems.
They're not the only ones.
Again and again, we see sex scene after sex scene where things are going well and then…suddenly…not so well. As a result, we get to see a lot of skin.
That first episode also contains a very large, very hard and barely concealed erection. Throughout the season, you also get to see such treats as a full-on, flaccid penis and a mysterious minge that will have you shouting "My Vagina!".
Apart from the bits, there are also plenty of tantalizing scenes from teens and adults alike that will leave you all hot and bothered. I'm still wondering what sex between Jean and her one night stand, Dan (played by Daniel Ings from Love Sick aka Scrotal Recall), would have been like.
Wish fulfillment
A lot of this show's allure is in wish-fulfillment.
If you had access to a sex therapist in high school, one who was in your peer group but also non-threatening, wouldn't you have used their services? I know my high school days would have been much better if I had been able to go to someone for discrete advice.
Think of all the drama you have experienced, or are experiencing, in high school that could have been avoided or at least resolved if there had been a sage voice of reason encouraging you to love and accept yourself and to communicate with those you're intimate with. It was a confusing time that we all needed help with.
Otis and his business partner, Maeve, also jump into it full-force, learning along the way. Becoming a sex therapist in the real world takes years of hard work and supervised practice before you can even try to get your licence. Running a business also takes a huge amount of work and knowledge. The fact that they went from nothing to something so quickly fulfills our desire to just jump in and DO stuff!
Behind the scenes
Otis may have skipped all the necessary steps, but the creators of the series did not.
With all these young actors portraying so many, varied sex scenes, they relied on the expertise of Ita O'Brien, an intimacy director, to uphold the best practices that she herself developed. In the post #MeToo world, the entertainment industry wants to be sure they are looking out for the well-being of their cast and crew, as they always should have.
Ita O'Brien helped them choreograph sex scenes and generally made everything feel better for everyone involved. The series is fiercely feminist, with a writing team that is largely ladies, and they went above and beyond to stay true to their sex-positive, body-positive, feminist values.
There are no "bad people"
One of my favorite things about this show is that no one is purely awful (except peripheral characters, especially in episode 5). The regular characters all have motivations and personalities that cause conflict, and that's where all the drama comes in. No one is evil. Characters are understandable, relatable and lovable, despite being very different from one another.
It's easy to have good vs evil. You know who to root for and who to hate. Life isn't that cut and dry, and neither is life at Moordale Secondary. There are reasons why people do the things they do, even the things that are intensely hurtful. The writers show you those reasons.
If there is any evil force in this series, it is poor communication. This seems to be the underlying message throughout. Learn your truth and share it with those who need to know.
A+ soundtrack
Not only is the soundtrack awesome (seriously, check it out!), the specific songs are so well-placed within the scenes it almost feels like they were written for the series!
Of course, they weren't, but the lyrics and tone fit so perfectly, it will have you laughing and crying. You know that feeling when you're going through something and then suddenly, a song comes on that you haven't heard in ages but that fits the situation perfectly? That's how it feels. Spontaneously perfect.
The musical choices are drawn from all over music history and across genres. The songs aren't always ones you know, but they all have the power to really transport you. Everyone who loves good music will love listening and dancing along.
Speaking of, there are a few really great moments of awkward dancing in this series. Very fun, and very relatable.
It's awkward, and that's ok.
This isn't the kind of awkward that makes you want to die like in Never Been Kissed when Josie Grossie eats some pot brownies and becomes a horrifically embarrassing TRAINWRECK. This is an endearing and familiar kind of awkward.
It's the learning-how-to-scissor kind of awkward. Inappropriate boners kind of awkward. Learning to masturbate kind of awkward. And they all make it out the other side.
Most of the time, the awkwardness is relieved through good communication and patience. Otis helps his peers share their vulnerabilities with their partners and get at the root of their troubles, like the real reason one teen wants to have sex in the dark.
However, they're mostly teenagers, so their communication skills aren't particularly stellar. Even Otis, with his unlikely wisdom stumbles into awkwardness as soon as it's his own life he's dealing with.
Oh, and all the awkward dancing. Adorably, and awkwardly, genuine.
How will season 2 compare?
A new season is upon us and we'll see if it keeps up to the high standard set by season 1. There's a strong cast, great writers and fantastic production values governing the show so my hopes are high.
Now, please excuse me while I go check out the new season.